This segment is dedicated to the moment where "I didn't buy it." Moments of epiphany where I intentionally avoid purchasing products (even as late as at the register) because they are made in China. Then I hunt out an alternative that is "Fair Trade" or "Made in USA".
This week, it was a wrist rest.  For those of you unfamiliar with the term, wrist wrests are designed to support your wrist while using a mouse or keyboard so that the wrist remains suspended at a flat angle, rather than angled upwards (with the wrist dropped below the hand).  If the wrist is angled upwards constantly at work, you are at risk for carpel tunnel syndrome.  WebMd.com has a nice summary of carpal tunnel syndrome.
I have the early symptoms of Carpal Tunnel Syndrome: tingling and numbness in my right hand.  Last weekend it took all weekend for the tingling to stop.  I figured something had to change, and I missed the boat on the "Ergonomic Office Space" coach my CEO invited into the office last week.  After I adjusted my chair and posture, things felt immediately better, but my right wrist was still tingling.  Carpal Tunnel Syndrome, when left untreated, requires surgery.  Not an option.
So I hopped off to Office Depot to get a wrist rest.  I was about to drop $11.99 on a mouse wrist rest when I realized that I essentially was holding an overpriced bean-bag.  Did the shape (angled inward at the wrist) really justify $11.99?  Especially when it is made in China?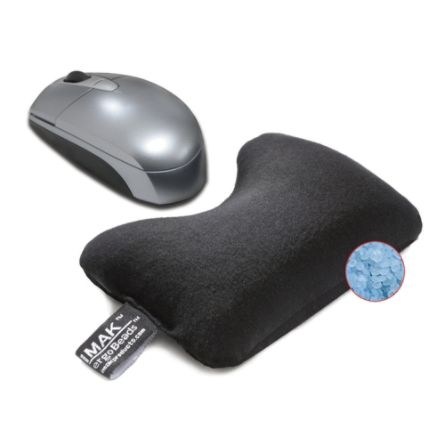 I quietly got out of line for the register and put the two items away.  Back at work, I performed a quick Google search.  I figured finding a wrist rest made in the USA would be no problem, especially after I had so much luck finding socks Made in the USA.  No results found!!  I changed my tact and tried searching "Fair Trade Wrist Rest."  Ten Thousand villages popped into my search results with a cute Mouse-shaped Wrist Rest for $8.99 – $3 less than what I was going to buy at Office Depot.  It had style, and the reviews were 5-Star.  After a 25% discount from RetailMeNot.com (Get it Here), the whole thing with shipping came to $13.58, just $1.50 more than the version made in China.
I'll let you know how the product performs when it arrives in about a week.  In the meantime, I'm using an old make up bag to keep my wrist at a halfway decent angle.