My fiance proposed to me on a beautiful Spring night – May 17, 2014.  It was an Magical Moment I will never forget.
Then I remembered that we had to ACTUALLY PLAN A WEDDING.  Weddings, especially what corporate marketing and the "Wedding Industry" have turned them into, are rife with opportunities to hurt the environment, create waste, spend unnecessary amounts of money, and buy a whole lot of things made in China.  Neither of us want that.  So, we are approaching the planning process with an eye towards reducing environmental impact where ever possible.  I'm only a month in, but here are 5 things I've already discovered.
1. The Wedding Dress
Yes – your mom's dress went out of style in the 90s.  That's ok – a good seamstress will be able to work with what you have.  If your Mom's dress is stained or damaged, check out PreOwnedWeddingDresses.com.  Most dresses on the site have been professionally dry cleaned.  If you restrict the search to within driving distance of where you live, you can even check them out in person before you buy.  Bring a bridesmaid or family member for an objective opinion.
2. The Bridesmaids Dress
Of course, the ultimate goal is "a dress they will want to wear again."  A popular approach is to let the bridesmaids find their own dress using a color swatch as a guide, but this puts a lot of faith in your bridesmaids' ability to color match.   Be prepared for "50 Shades of (Insert Color)".  My solution was the "infinity dress." Popularized by YouTube videos and several innovative fashionistas, infinity dresses are long maxi-skirts with long, wide panels in jersey that can be wrapped in an "infinite" number of ways.  There are tons of Etsy.com sellers (in the USA!) who specialize in bridal parties.
3. The Flowers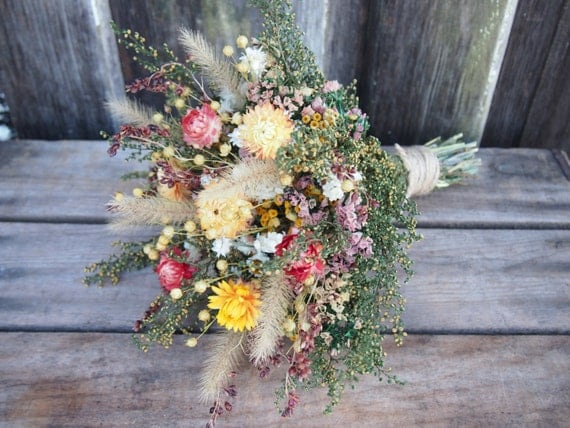 Flowers cost a lot of money and require green house gases to ship and store.  This is especially true if you are getting married in an off-season.  Silk flowers are less expensive, but usually made in China and will sit in a landfill for centuries (literally!).  Dried flowers are beautiful, elegant, and biodegradable.  My mother is superwoman and has volunteered to "do the flowers."  She is running all over the Mid-Hudson valley collecting flowers and drying them in her attic.
If your mom is not up for spending her summer on the world's craziest craft project, several Etsy.com sellers make dried flower bouquets in the US and can ship them anywhere.  Compared to the cost of fresh, these beautiful bouquets are very affordable and can be custom designed.  Other great ideas I've seen include using planters instead of centerpieces (so the guests have something to bring home) or skipping florals altogether for something like candles.
4. Invitations & Other Stationary
The most expensive stationary in the world is stationary with the venerable "Wedding" label attached to it.  The numbers get even crazier when you try and find recycled paper (almost impossible) or use paper with flower seeds in it (a lovely, eco-chic concept that will cost you as much as your wedding gown).  It would have been nice to go the digital route, as one friend suggested; but if your wedding list includes anyone over the age of 50, they might not see it (or have a working email address).  Since my fiance is Latin, there was also a significant language barrier to overcome.
The least expensive option I found was to design my own "Save the Date" and have it printed on recycled paper with VistaPrint.com.  Hot tip – order from the "Marketing Materials > Postcards" section, where cards start at $0.20/unit, NOT the "Invitations & Stationary" section where they start at a $1.00/unit.  If you don't want to blow your wedding budget on Photoshop, GIMP is free and functional for creating the invites.  You can download GIMP here.
5. Transit to the Venue
One of the biggest sources of environmental impact comes from all of those pesky cars driving to and from the venue location.  My fiance and I picked The Eagles Nest as our venue.  Part of the appeal was that it provides free shuttle service to several area hotels.  This will significantly reduce the number of cars driving to the venue and therefore will also reduce carbon gas emission.  It also a nice solution to the problem of drunk guests driving home.  The closest NJ Transit stop is just 15 minutes from the venue, so friends and family coming up from the city can use public transit.